Every morning I get up
{sadly a lot earlier now that we are transitioning Cormac to the 'big boy bed'...but more on that soon...}
make my cup of coffee, and settle in at the kitchen island with my Mac to peruse the internet.
So for this week's linkup with
Lauren and Tiffany at
Life.Love.Lauren
and
Austin Family Diary
here are my four must-check daily websites...
I'd like to say the first website I check is something really intellectual, but...it's
Facebook.
I don't even know why anymore, as I get less and less pleasure out of Facebook, particularly since they started notifying me every time one of my friends breathes. But I DO love to look at pictures of the ever-changing lives of my family, good friends, and heck, even aquaintances and learn the important news of weddings, moves, jobs, and, of course, babies.
Then I will check
my email
, which was Hotmail, but now is somehow Outlook. I delete all the crap and read the one email that looks interesting or is actually personal, then it is off to...
Pinterest!
Gotta obsessively see what is creatively inspiring my friends, and what project/recipe I might actually try today.
Last but not least is
Blogger
, of course. I love blogs, just as I love blogging.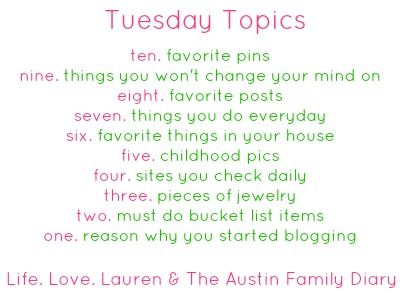 * * * * * *
And here are some
mamarazzi shots of "Mac"
as he now refers to himself.
Doing what he does.
Always with messy hair.
"Mah, I'm pretty sure this periscope needs to be hosed out."
future fireman/calendar model - Mr. April
"I love watching PBS Kids at lunchtime with you, Mah. Actually, I could care less that you are sitting here with me. And I have no idea what I am eating. I just keep grabbing and putting in my mouth." Occasionally he will let out an animal noise, since the show we watch has farm animals.
"Bah-Bahs! I love bah-bahs!"
(First time he has been able to blow the bubbles by himself!)
The face I got when I asked him to smile on Easter morning.
"Well, why did the Easter Bunny give me flatware?"
The face I got after I said, "Um, don't smile quite so big for this one."
And finally, his first
Ipod experience.
Which he stole out of my gym bag.
Did I mention one of his first words was
"Ipad?"
Also recently added to his vocabulary -
"Int-net"
Hey, don't judge. He also says
"book"
a lot.